Whether it's totally awesome or epic fail, you'll find a template to match the moment in Comic Touch.



Cover shot? Covered!
The fun begins with Comic Touch even before you take a picture. Use the live preview to see your friends framed in our beautiful templates, and with 24 built in designer templates there's plenty to choose from. Change out templates with a swipe of the finger. Once you have the pic and template you like it's time to make it all your own in the editing studio.
Looking awesome has never been so easy
With over 20 filter and texture options for photos you can go anywhere from sketchy pencils to gorgeous rotoscoping in a variety of different styles.
Want to tweak the template? No problem. Resize, reshape and remove elements from templates, and add your own balloons, comic lettering and captions to templates with a tap.
Too good to leave on your phone
You've just created a work of art, my friend, and now the world deserves to see it. Share your glorious creation to Facebook and Twitter with a tap. Save it to your camera roll to show off later. And as it's incredi-mazing, get high quality prints from Kodak to hang on the fridge.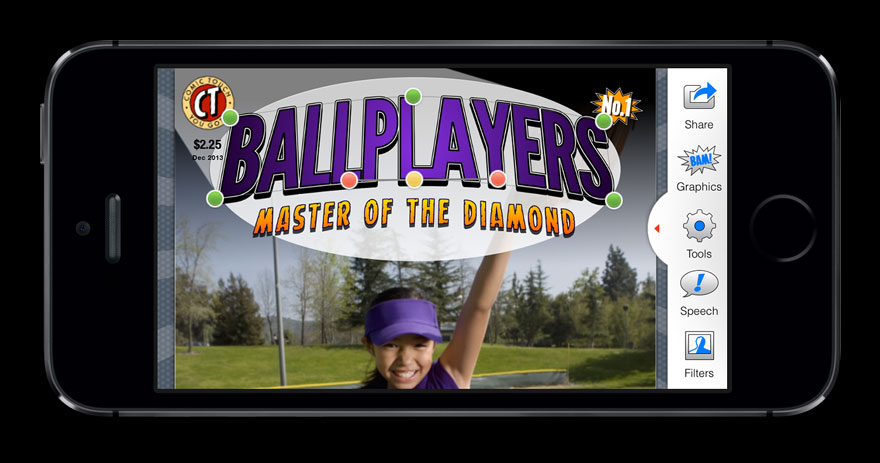 Features Included
 
24 built-in designer templates to choose from and more portrait template packs available for purchase.
20 photo filter combinations
28 comic-style graphics elements, from Aarrgh! to Zap!
Pro comic fonts included
Ballooon, caption and lettering elements
Share via Facebook, Twitter and more
Order quality prints from Kodak, from 4x6 to 8x10